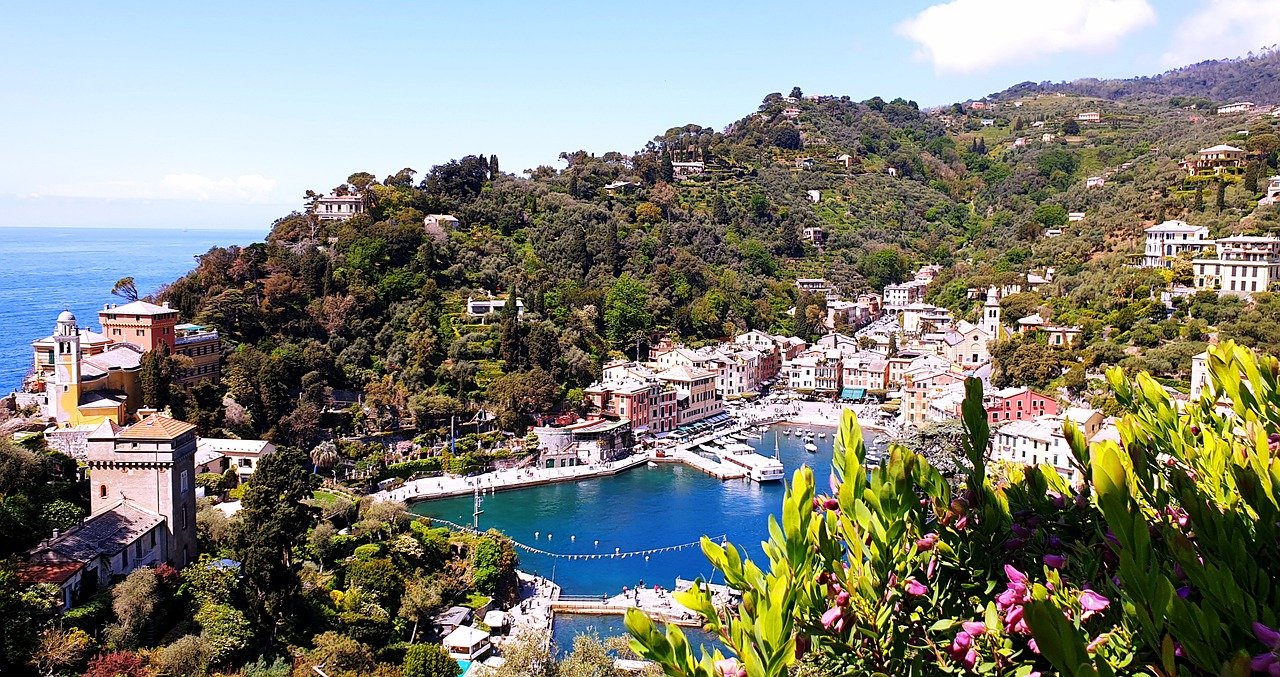 AROUND PORTOFINO
Attractions nearby Portofino
Enjoy Portofino and surroundings on the Italian Coast
Located on the Italian Riviera, Portofino has several places worth visiting in its vicinity, which are easily accessible by train, boat, or car in less than a few hours.
Visit Genoa
Genoa, the central city close to Portofino, is the capital of Liguria and the largest seaport in Italy. There is a lot to see and to do in Genoa, from exploring its history and architecture, admiring the beautiful gardens and parks, visiting the museums or spending some time at the aquarium, walking on its harbor or promenades, or just tasting its specific Italian cuisine, it all depends on your time or preferences.
Visit Cinque Terre
The famous Cinque Terre or "The Five Lands" is two hours' distance by train and more than one hour's driving distance from Portofino (90 km). The taxi fare from Portofino to Riomaggiore is around 100 euros, and a train ticket is 5 euros. A couple of private boat tours organize day trips to Cinque Terre, which could be an easier and more relaxing option, as most of them would include a stop at most villages that make up Cinque Terre and a restaurant break.
Visit Paraggi
Paraggi Bay is the closest sand beach near Portofino, famous for its clear blue water and for hosting the holiday homes of many celebrities, including Dolce and Gabbana and Pier Silvio, Berlusconi's son. Besides the main public beach, there are some private beach clubs in Paraggi. Many hotels and also private tours offer transfer services to Paraggi and back. You can also take bus no. 882 for less than 2 euros or a taxi for 10 euros, or you can take a 20-minute walk if you are in good shape and would like to explore the area.
Visit Camogli
Camogli is a former fishing village and a touristic resort located on the Ligurian coast next to Portofino. Due to its proximity to Portofino, Camogli Beach is a convenient option for tourists. It is also an alternative for accommodation during your stay as the place is well connected to Portofino, and there are some friendly hotels and resorts here. Bus no. 882 from Portofino has a stop in Camogli, and the ticket price is 3 euros while a taxi costs 25 euros.
Visit Santa Margherita Ligure
Santa Margherita Ligure is the closest village, rail station, and ferry connection to Portofino. It is a small beautiful port town with lovely colored buildings and some attractions, including a beach area, a castle, and some nice cafés and restaurants, which make it a place worth visiting if you are in the area. From Portofino bus no. 882 is available to Santa Margherita Ligure for 2 euros, or you can take a taxi for about 15 euros.
Visit San Fruttuoso
The obscure village of San Fruttuoso is reachable from Portofino only by boat or foot. Tucked between folds of the cliff lies the village and its medieval abbey, the cupola bleached by centuries of sun, the arches draped by nets of fishermen.